Attic Cleaning and Insulation
Back To Our Services
The condition of your attic can have a serious impact on the comfort of your home. Proper attic care can increase your energy efficiency, reduce your heating and cooling costs and protect your stored property.
The older your home is, the more likely it is to have substandard or damaged insulation in its attic. Not only can this cause drafts, it can cost you a lot in your monthly energy bill. Our professional team has a vast wealth of experience and the proper safety equipment necessary to deal with every major or minor attic related issue. They will provide you with any required service, from insulation replacement to crawl space cleaning.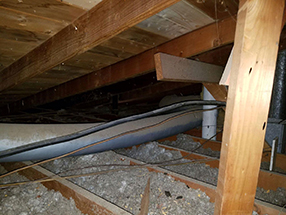 Professional Cleaning and Decontamination
When you have rodents, birds or bats in your attic, they are doing worse than making annoying noises. If left to their own, they can damage your stored items, your insulation material, your roofing and even your electrical infrastructure. Removing these critters is only half the battle. You also need rodent proofing to ensure they won't be coming back for good.
After removing the pests and preventing future infestations, you will need to remove the mess left behind. Animal droppings aren't just disgusting and smelly. They are disease factories. Professional attic decontamination can take care of that.
New Insulation and Radiant Barriers Installation
If you're ready to reduce your heating and cooling costs, removing old insulation and installing more effective modern material is a great first step. Depending on the age and condition of your home, insulation replacement can drastically increase your energy efficiency.
For those with a lot of sun exposure during the summer, radiant barriers are a smart investment. These thin sheets of reflective material actually keep excess heat from entering your house by reflecting it back out. Not only that, but they also help keep heat inside during the winter.
Call Our Professional Team Today!
Our Air Duct Cleaning Moorpark team provides both commercial and residential attic related services, and our specialists are expert in dealing with every issue, big or small.